A key area of focus for Colgate is reducing the contamination levels of wastewater, an inevitable by-product of manufacturing. Although our wastewater is treated prior to release, the Company continues to invest in more efficient cleaning technologies designed to help reduce the amount of wastewater and wastewater contaminants.
At various sites, trained technicians periodically test raw and treated effluent water samples. The treated water is then typically reused for various purposes such as irrigating our grounds, thereby saving water from reservoirs, wells and other limited sources. Pollution control authorities and local communities have recognized and appreciated Colgate's efforts.
Our 2002 to 2010 target is to reduce wastewater contaminants by 15% on an absolute basis and by 30% per unit of production worldwide. On an absolute basis, wastewater contaminants (before treatment and discharge) decreased by 17.4% from 2002 to 2009. This improvement since 2002 has resulted in both environmental and economic benefits, such as a reduction in treatment costs and fees. We continue to strive to reduce our overall wastewater contaminants on an absolute basis even as our business grows.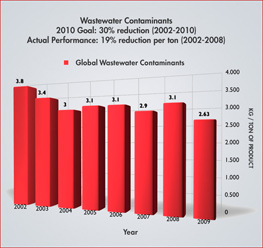 Colgate reduced wastewater contaminants per ton of production by over 17% from 2002 to 2009.
Click to enlarge
Examples of Colgate's efforts to reduce contamination of wastewater include:
As Colgate's business grew in Huangpu, China, the original wastewater treatment plant was unable to handle greater capacity. With a new advanced bio-process treatment system, Colgate exceeded local requirements while maximizing utilization of the original tanks, facilities and equipment and also reduced costs.
In Canelands, South Africa, Colgate has made improvements in the continuous saponification and glycerine plants that have resulted in reducing the salt content of wastewater discharged, thus improving the quality of the wastewater. Improvements have also included better collection of solids in the wastewater, which now settle into a special tank where they are removed twice yearly. These improvements have resulted in a savings of $11,000.
In Colgate's Mexico City personal care manufacturing facility, a reverse osmosis unit was installed to treat effluent wastewater from the biological treatment plant. This water is now reclaimed in the facility's boiler and is used to generate steam for operations, resulting in the reuse of 210 cubic meters of wastewater per day, achieving over $280,000 in savings per year. This project helped the facility achieve two important environmental objectives: reducing water well extraction to preserve water resources, and reducing the burden to the municipal sewerage system.