At Colgate, we understand the potentially negative consequences of climate change and are committed to acting responsibly and conscientiously to protect people and the environment everywhere we operate. We understand how climate change may impact our business, including access to raw materials (e.g., agricultural products and clean water) for use in our oral care, personal care, home care and pet nutrition products. We are committed to conducting ourselves in a responsible manner to protect people and the environment in every area of the world in which we do business.
While Colgate is not an energy-intensive company, carbon dioxide (CO2) created from on-site fuel combustion and externally purchased electricity is the most significant greenhouse gas emission associated with manufacturing our products. The majority of our electricity is purchased from local power companies with the exception of three on-site cogeneration units located in Italy, Mexico and the United States. We also purchase natural gas and fuel oil to produce steam for manufacturing and heating and for fire protection system pumps and backup generators.
Colgate's efforts have focused mainly on energy efficiency improvements that help reduce the amount of CO2 emitted into the environment. Our global goal is to reduce CO2 emissions per ton of productivity by 25 percent from 2002 to 2010. On a per-ton basis, we reduced CO2 emissions by approximately 22.6% from 2002 to 2009.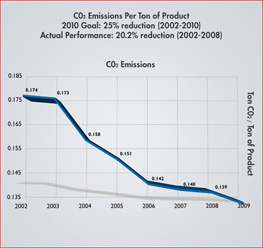 From 2002 to 2009, Colgate reduced carbon emissions per ton of product by over 22%.
Click to enlarge
We review our global CO2 emissions data regularly, and periodically verify them by using third-party consultants. We continue to assess and evaluate all opportunities for reducing greenhouse gas emissions from our operations, including continuing our energy efficiency efforts using alternative energy generating technology such as cogeneration and solar heating of hot water. We are also focusing efforts outside of our facilities. For example, we are working toward a goal of replacing 50% of our car fleet with higher fuel mileage vehicles by 2010, with the remaining fleet conversion occurring by 2012. Colgate's goal is to reduce the use of fossil fuels while also reducing carbon emissions.
We will continue to implement energy efficiency improvements at our facilities worldwide. All Colgate manufacturing sites have been tasked with conducting annual energy use assessments to continually identify improvement opportunities. This assessment approach is grounded in our core value of continuous improvement. In addition to improving our efficient use of energy, we will continue to evaluate options for reducing carbon emissions. Although our CO2 emissions are comparatively small, we are committed to continuing to reduce these emissions through improved efficiencies, new technologies and other means available to us. Read more about energy efficiency.
Carbon Disclosure Project
We have reported publicly on our energy use and climate change efforts to the Carbon Disclosure Project (CDP) since 2004. The CDP is a global initiative supported by institutional investors to promote corporate response to climate change through annual surveys of major companies worldwide. CDP recognized Colgate in its 2009 Carbon Disclosure Leadership Index. Colgate also participates in the Carbon Disclosure Project Corporate Supply Chain Program. Involvement in this program is part of the company's efforts to manage the risks and opportunities related to our suppliers' impacts on the environment. CDP recognized Colgate in its 2008 and 2009 Carbon Disclosure Leadership Indexes.