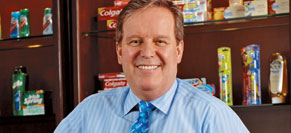 Ian Cook, Chairman, President and CEO
In this time of uncertain economic conditions around the world, we continue to believe that our success is driven by our dedication to Colgate's set of core values - Caring, Global Teamwork and Continuous Improvement. Our commitment to building sustainability into our business strategy remains strong; and we firmly believe that by making sustainability an integral part of our strategy, we will contribute to our long-term success.
Colgate's oral care, personal care, home care and pet nutrition product lines have long provided products that help improve the health and wellness of consumers around the world. We have had a long-standing commitment to the communities where we live and work and to the environment.
In 2008, Colgate formalized its sustainability business strategy under the leadership of a senior-level Global Sustainability Steering Committee, with global representation from all functions and all business units at the highest levels in the organization. The Committee, which reports to me, defined our sustainability objective: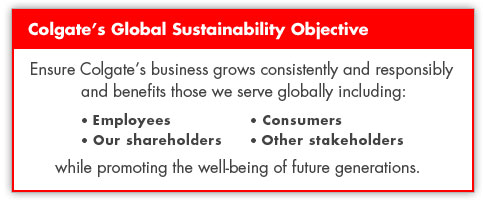 By People, we mean all of Colgate's stakeholders, including employees, business partners, retail customers, consumers, shareholders and others. Specifically, we will work to develop the full potential of all Colgate people and to respond to Colgate's key stakeholders in the area of sustainability.

We are mindful that our Performance has an impact on the communities where we live and work. We will focus on growing consistently and responsibly, continuously meeting or exceeding our financial goals, and targeting our charitable contributions.

Finally, we are concerned with doing our part to protect our Planet. We will focus on providing environmentally and socially responsible products and protecting the environment, including addressing climate change as it relates to our business.
In 2008, Colgate developed an internal Sustainability Implementation Network to drive the integration of the sustainability strategy throughout the business, every day, everywhere. Each division and function is implementing a sustainability project in 2009 - we hope to report on progress as data becomes available. The 2009 projects were designed to involve as many Colgate people as possible and to accelerate awareness and participation in the global sustainability strategy. In addition, some projects will generate savings and possibly new ways of thinking about how we do business.

We know there is much more we can do. As we go forward, we remain committed to growing our company and enhancing the lives of consumers and communities around the world. Out of respect for our Planet, our sustainability report is no longer published in print form; it can be viewed or downloaded from this website. We'll update this site annually or when significant changes occur.
We appreciate your interest in Colgate and we invite your feedback on this report.
Thank you,

Ian Cook
Chairman, President & Chief Executive Officer
2009